What would be best for you? A new or old property?
Choosing your next home is a very important decision, and one of the factors that you will be considering is whether you would rather live in a new build property, or an older one. Here's a rundown of the pros and cons of each.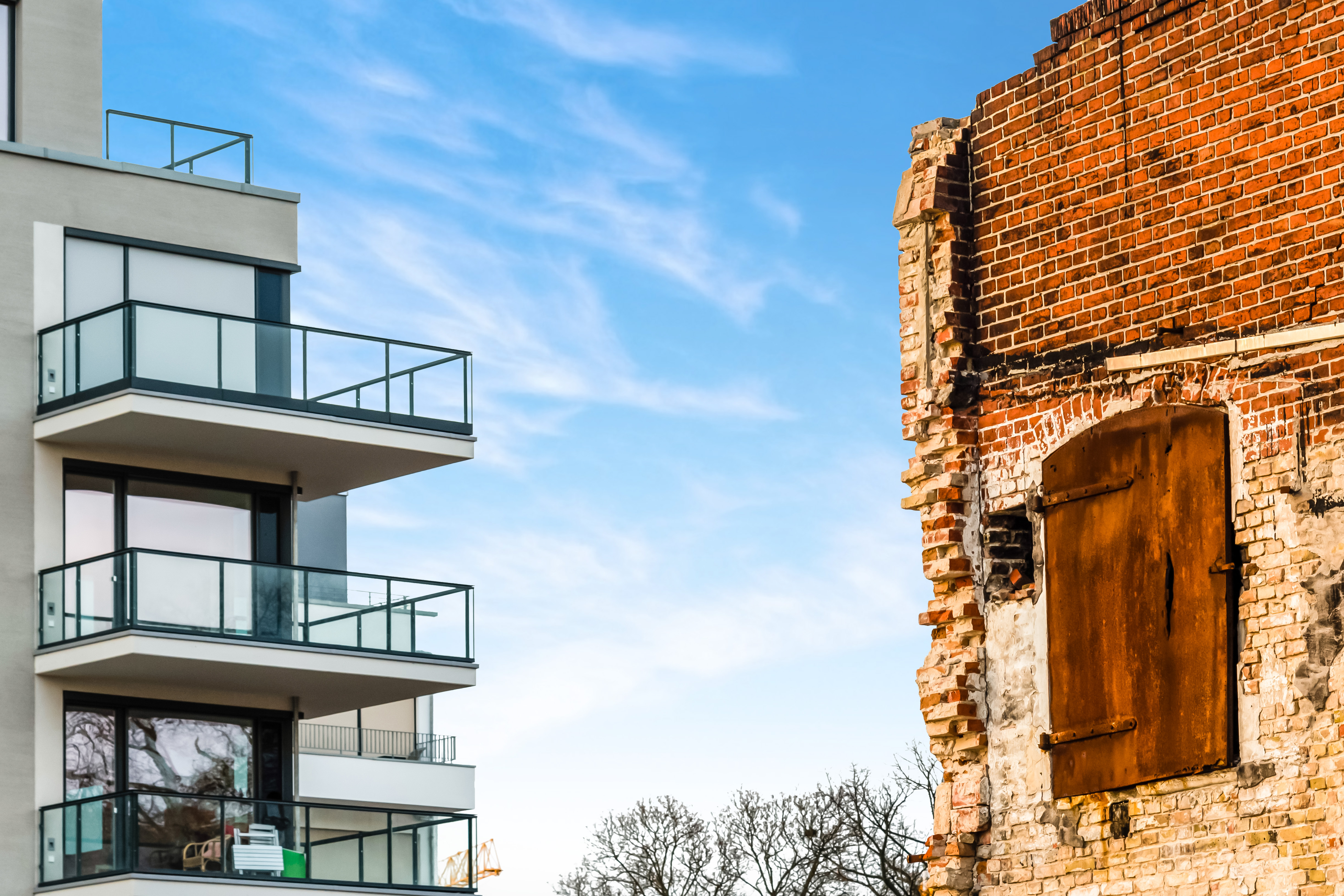 A new-build home
The Arguments for Buying a New Build Home
Unpack and go – A new home is a blank canvas with fresh tiling, paintwork, kitchens and bathrooms. This means there should be very little, if anything, you need to do to it. You can simply unpack your belongings and start enjoying your new home.
A boost to buying – For many first-time buyers a new build home is the only way they can get onto the property ladder. That's because schemes such as Help-to-Buy and Shared Ownership are only available on the purchase of a new home.
Incentives – Some developers will throw in extras in order to get a sale. This could mean paying your stamp duty or covering the cost of carpets.
Modern living – Top-spec new builds have all the latest technology. Many offer 'smart home' features and open-plan layouts. Some also have shared services such as a gym or concierge.
Design a home – Buy off-plan (which means before the house is finished) and you may be able have a say in the design. The builder may let you choose fittings and perhaps even the layout.
Low bills – New build homes have to comply with the latest building regulations. This means they are far more energy efficient than older properties. Data from Energy Performance Certificates shows over 80% of new homes have the highest A or B ratings. That compares to just 2.2% of existing properties.
Chain-free – As you'll be the first owner you won't have a chain of buyers above you. This can take away one of the main stresses of buying a home.
Warranties – Most new builds come with a warranty, which you don't get with an existing home. But, a warranty doesn't cover everything you might expect.
The Arguments against Buying a New Build Home
Space – Some developers pack a lot of properties onto a site in order to maximise their profits. This can mean a new-build home is less spacious than an older property and this can particularly affect storage space. Check that your furniture fits and that your car will get into the garage.
New home premium – A lot of the benefits of buying a new-build disappear on the day you buy it and it is no longer "brand new". This means a one-year-old property may fall in value as buyers look at the new-builds popping up in the development across the road instead. Our advice is, if you are buying a new-build, plan to live in it for the longer term.
Leasehold – Many new build properties are sold as leasehold rather than freehold, although this is something that the current Conservative government is keen to clamp down on. If you are buying a leasehold property, tread carefully and make sure your conveyancer explains costs, charges and restrictions set out in the lease. The length of the lease is also critical – it should be at least 90 – 120 years and preferably 999 years. Furthermore, the government is planning to ban the sale of leasehold houses (while leasehold may make sense for flats there is no reason for a stand alone house to be leasehold) so avoid these at all cost.
Tied to a conveyancer – We often hear from our users that a developer insisted they used their recommended conveyancer in order to purchase a new-build. This should be avoided at all costs. A good solicitor with experience of new build conveyancing but not partnered with the developer will ensure that the contract is in your favour, that your deposit is fully protected and that there is a 'long-stop' completion date for the property to be finished by. The developer's solicitor and sales team will exert huge pressure on you to complete, while a conveyancing solicitor chosen independently is less likely to bend under pressure.
Quality and Snags – New builds often get a bad press with stories of poor quality making the headlines. Even with the best new build home, you can still expect snags like doors getting stuck on new carpets or a loose tile. Whether it's a significant structural issue or a series of small annoying snags, be prepared to have a snagging survey as soon as the developer will let you on site. This way a professional who knows what they are looking for will be able to reassure you everything is as it should be. They will also liaise with the builder to get everything sorted out.
Delays – New builds don't always run to plan and it isn't unusual for the move-in date on a new build property to be delayed. This could just be an inconvenience, but if it goes on it can cause added stress and add to your costs. We hear from people daily struggling with unexpected rent and storage costs, having moved in to alternative accommodation awaiting their new builds completion. Too long a wait can also affect mortgage offers.
Existing properties
Britain has a long history of building beautiful homes, from a Victorian terraced house to a more modern mock tudor house to everything in between. There are plenty of older properties that could turn your head during the hunt for a new home.
The Arguments for Buying an Older Home
Character – From the sash windows of a Georgian property, a fireplace in every room of a Victorian home, or the stained glass panels of 1930s suburban homes, there are so many different designs to choose from in our existing housing stock. It's these period features many of us fall in love with when looking at to buy.
Community – An existing property is more likely to be surrounded by a community with neighbours who've lived there for years. There may also be more nearby amenities such as established restaurants and pubs.
Space – Older homes tend to be larger with more spacious rooms and gardens.
What you see – Unlike buying a new build off-plan, what you see is what you get with an existing property. Get a good survey done and you can buy a property safe in the knowledge you know everything about it.
Potential – An existing home may not be perfect, and could need a bit of work. That gives you the opportunity to put your own stamp on it, and potentially increase its value.
The Arguments against Buying an Older Home
Chains – Buy an existing property and you will have to deal with the owners and any onward property chain that they are in making the buying process more stressful.
Maintenance – Unlike a new-build you can expect maintenance to start needing to be done on day one of moving into an existing property.
Energy efficiency – Older properties are unlikely to be as energy efficient as a new build. So, your monthly energy bills could be higher.
Renovations – You may want to redecorate or replace a tired kitchen or bathroom. You need to factor those costs in to your budget.
Overall there is no right or wrong choice when it comes to deciding between a new-build home or an existing property. It comes down to your personal preference and what you want to get out of your new home. Just make sure you have all the information about your preferred property before you exchange contracts to buy.
Market your property with Maddisons Residential
For many, the first point in their house moving journey, is to understand the value of their current home. Whether you want a quick, instant, online indication, or a more robust property specific and individual valuation, we would be delighted to help.